Top 10 Places To Visit In Sardinia – The Travelling Guide
What's up guys… Here are some of my favorite places on the magical island of Sardinia.
So here is my Sardinia top 10
With some of Europe's best coastline, pristine beaches and the clearest water you've ever seen Sardinia is the place that has the second-largest island in the Mediterranean and there are so many places to see.
The Baunei Coast
It's 40 kilometers of coastline that's made up of massive limestone cliffs and secluded beaches.
The Baonai coast isn't the easiest place to reach most places require a hike or a boat ride.
Now when we were there we rented a boat in Cala Goloritze and jetted off to explore the coast.
Cala Goloritze
Now, this is easily one of the most beautiful beaches in all of Italy and the Mediterranean.
It has this massive pointy rock formation coupled with green cliffs and Gatorade blue water. Now it was about a 45-minute boat ride to get there. The visibility was absolutely incredible some of the clearest water you'll ever swim in.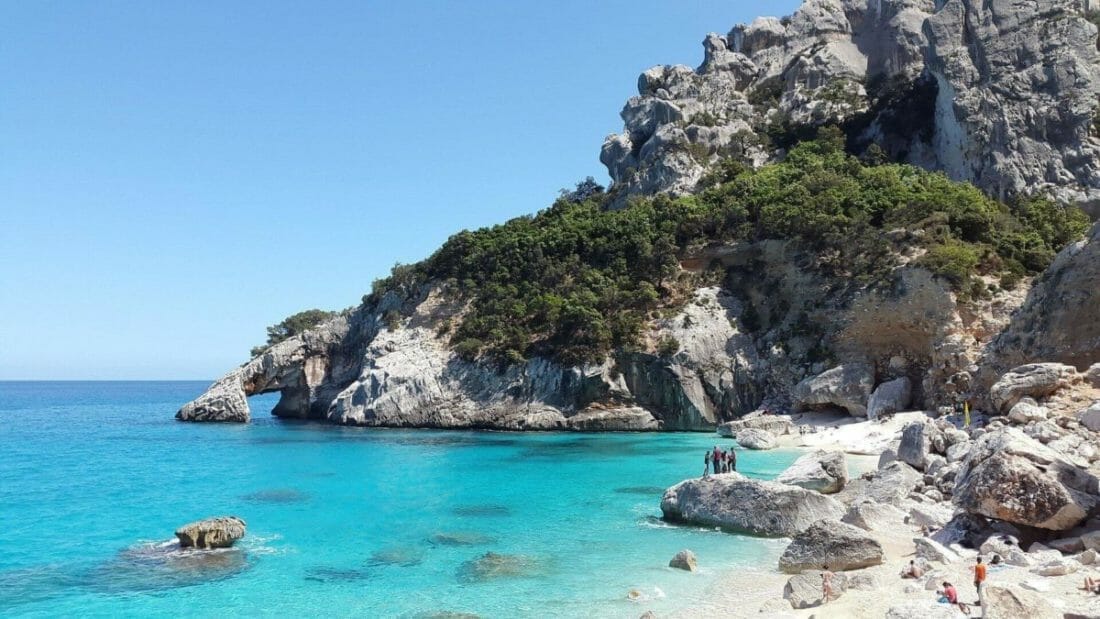 Now another reason to go to Cala Goloritze is that there's a sea arch where you can cliff jump. It was just so much fun I mean there's no better feeling than sending a gander into the ocean.
Now if you're not into cliff jumping you can also swim under the arch, the water goes down about 10 meters, and having such a good time exploring its underwater features.
I mean I just love snorkeling in some crucial clear water, anyways I just couldn't recommend this place enough. It truly is a magical place and the main reason I wanted to come to Sardinia
Cala Mariolu
Unfortunately, you can't hike here because it's surrounded by daunting cliffs where it's an awesome place to anchor your boat and explore the beach and see its beautiful view.
Cala Luna
Now if you keep boating up the coast you'll reach Cala Luna. Now, this is possibly one of the most famous beaches in all of Sardinia.
I'd say one reason it's so well known is for its sea caves they create such an iconic view, especially during sunrise.
At the end of august so it was pretty packed. I think the best time to come here would be early in the morning for sunrise, there would be fewer people and just absolutely incredible lighting, now regardless it's such a special spot then definitely worth a visit.
Cala Fuili
Now one cool beach on the bounty coast that you can drive to is Cala Fuili. Now it's located just north of Cala Luna and only a few minute's drive from Cala Gonone.
Now like Cala Luna there are so many cool sea caves and grottos to explore here definitely worth visiting.
Pedra Longa
Now while we're still on the Baltic coast, we're going to visit Pedra Longa. Now Pedra Longa is this granite monolith with a height of 128 meters and surrounded by phenomenal mountains.
Now to get there you can drive down and there's a parking lot at the bottom.
Now the rock is a popular spot for rock climbers and the area is full of some great hiking trails and places where you can find some secluded beaches to go for a swim.
Now from Pedra Longa, you can just get insane views of the cliffs of Baunei Coast contrasted with the blue Mediterranean sea. I mean it's just hard to beat the scenery of this place such a phenomenal spot.
Porto Flavia
Now afterward we're going to head to the western side of the island to visit Porto Flavia. Now it's located about an hour's drive from Cagliari.
Now Porto Flavia is this incredibly beautiful harbor with a unique mind that has a tunnel coming out of the cliff to transport minerals onto boats.
I mean I've seen pictures of this place online and it just has always fascinated me it was completed in 1924, it was quite the engineering feat especially back then.
I mean just such a unique location it doesn't even look real also in Porto Flavia there's a really cool rock formation in the sea called lake panda Zucchro definitely worth a visit.
Town of Bosa
Now afterward we're going to keep on driving up the coast to visit the Town of Bosa. Now located about two hours drive from Olbia Bosa is a historic city founded during Phoenician times.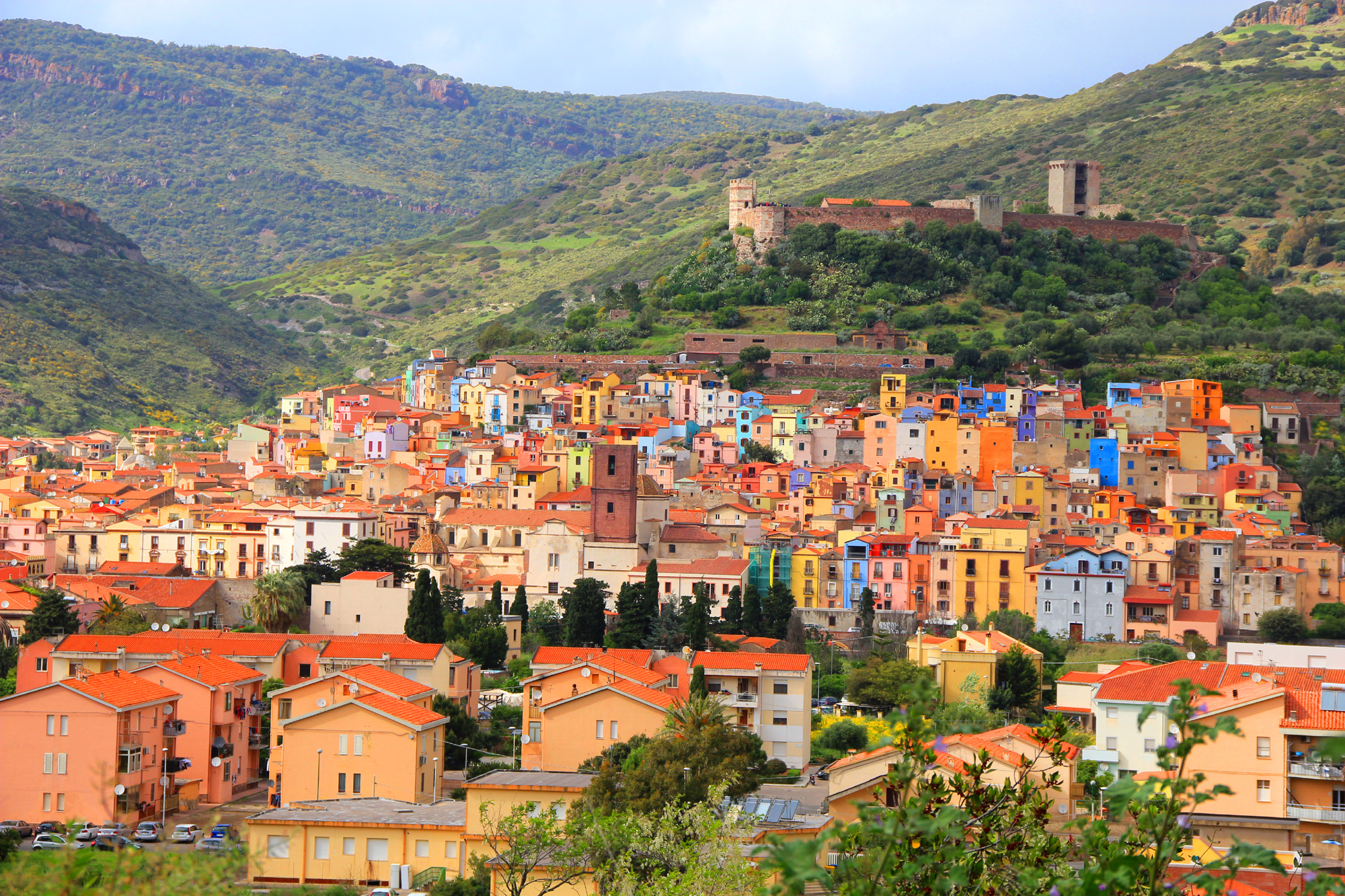 It prospered during the roman empire and during the middle ages and was invaded by Arab pirates.
As a result, a hilltop castle was built to fortify the town in the 12th century.
Now today Bosa is home to about 8000 residents and it's full of colorful buildings. one thing I love is how the river Tempo runs through the town as it exits into the sea.
Alghero
Now another cool coastal town in the area is Alghero. Now it's located about an hour's drive from Bosa It's Sardinia's fifth biggest town.
And it also has a medieval old town encircled by ancient walls Alghero began to grow in the 11th century as it became a fortified port thanks to the Genoese.
Capo Caccia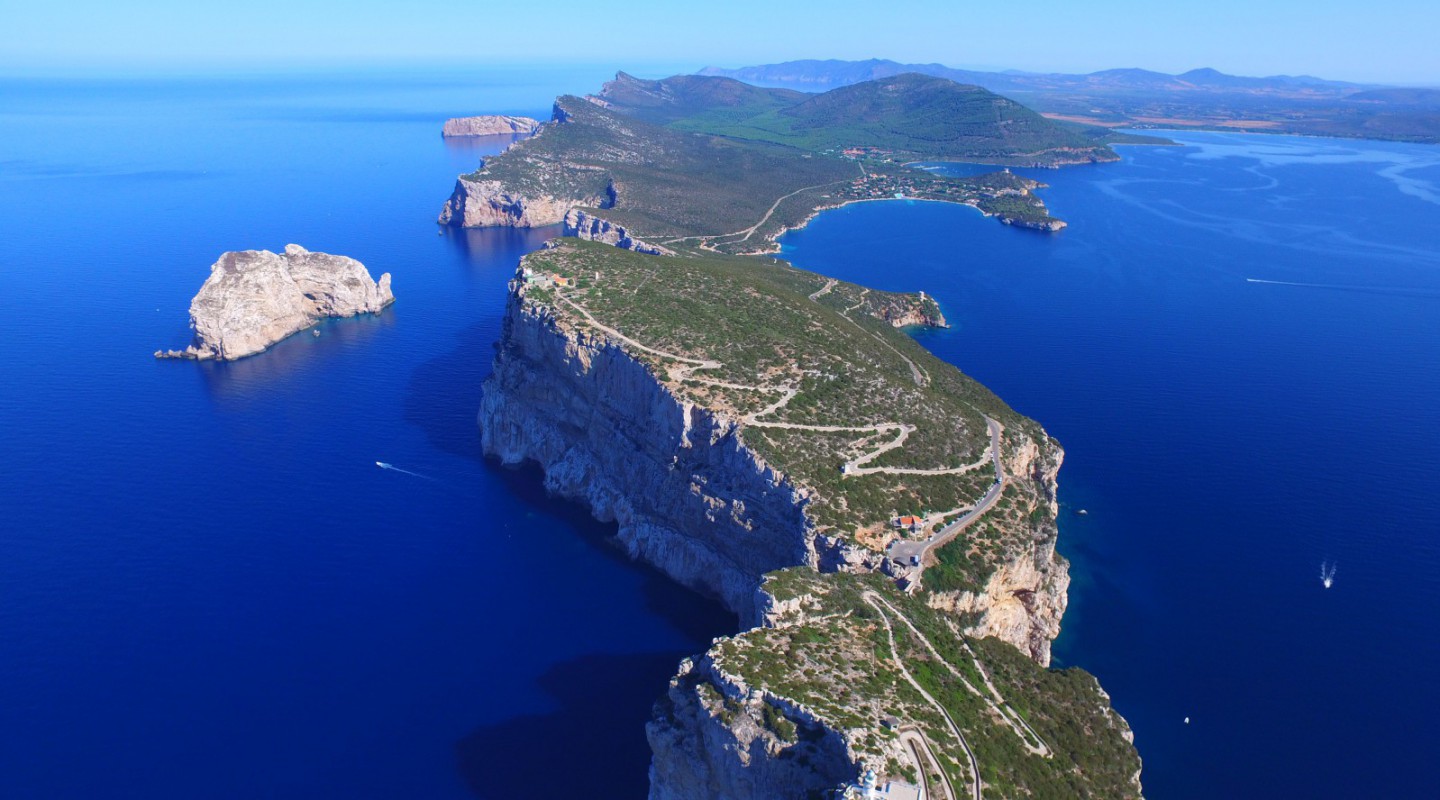 Now one amazing spot just 30 minutes outside of Alghero is Capo Caccia. t's a rocky peninsula with some insanely massive cliffs that rise over 300 meters from the sea and it's just such a beautiful area and a spectacular place to watch the sunset.
Spiaggia La Pelosa
Afterward we're going to head up to Spiaggia La Pelosa Now located on the very northwestern point of the island about a two hours drive from Olbia, Spiaggia La Pelosa is such a cool spot.
It's this long white sand beach with crystal clear waters and what I like about this is there's this little island with a 16th-century tower that was used for Sardinia's marine defense back in the day.
Cala Spinosa
Now another cool spot on Sardinia's northern coast is Cala Spinosa. It's located about hour's drive from Olbia and you'll be able to see Corsica from there.
The beach is just really beautiful with its boulders contrasted with crystal blue waters.
Maddalena Archipelago
Now afterward we're gonna head over to the Maddalena Archipelago. Now located on the northeast coast of Sardinia.
The Maddalena Archipelago is a group of islands full of beautiful coves and crystal clear waters. Now the Archipelago is made up of seven main islands and then 55 tiny little islands.
Now to get to the archipelago you can take a 20-minute ferry from Palau or if you have your own boat you can explore them with ease.
One cool place on the islands is Spiaggia Rosa which is this beautiful white sand beach with a pink hue, you just love to have a sailboat and spend a week or two exploring the archipelago.
Spiaggia dei Baracconi
Now afterward we're going to head over to Olbia to visit the beach called Spiaggia dei Baracconi. It's located just 30 minutes outside of Olbia and it's this perfect place to go for sunrise or sunset.
The water was just primed for swimming and snorkeling, you'll have such a good time just swimming around in the crystal clear water, where you found some seagrass and some starfish and had a good time trying to make some bubble rings.
Supposedly dolphins come here most days so you might get lucky and see some. Now one really cool feature i like about this spot is the view of the Figaro island i mean it's just such A scenic backdrop and really is a great spot.
Tavolara Island
Now for our final destination, we're going to visit Tavolara Island. It's just about a 30-minute drive from Olbia. The island is absolutely massive it's a perfect place to boat around and snorkel.
Now to get to Tavolara Island you can rent a boat where you can also take a 20-minute ferry from Puerto San Pablo and it costs about 18 euros round trip.
When you get there there's a restaurant and plenty of beaches to relax on if you want to go on adventure you can do a via Ferrata up to Punta Canone.
There's a cross on top and you'll get some insane views of the island. Now if you don't take a ferry or a boat over Tavolara, there are plenty of beaches on Sardinia's mainland such as Porto Taverna that offers some great views of the island.