9 Peaceful Nature Places in Seoul(SOUTH KOREA)
1. Namsan Park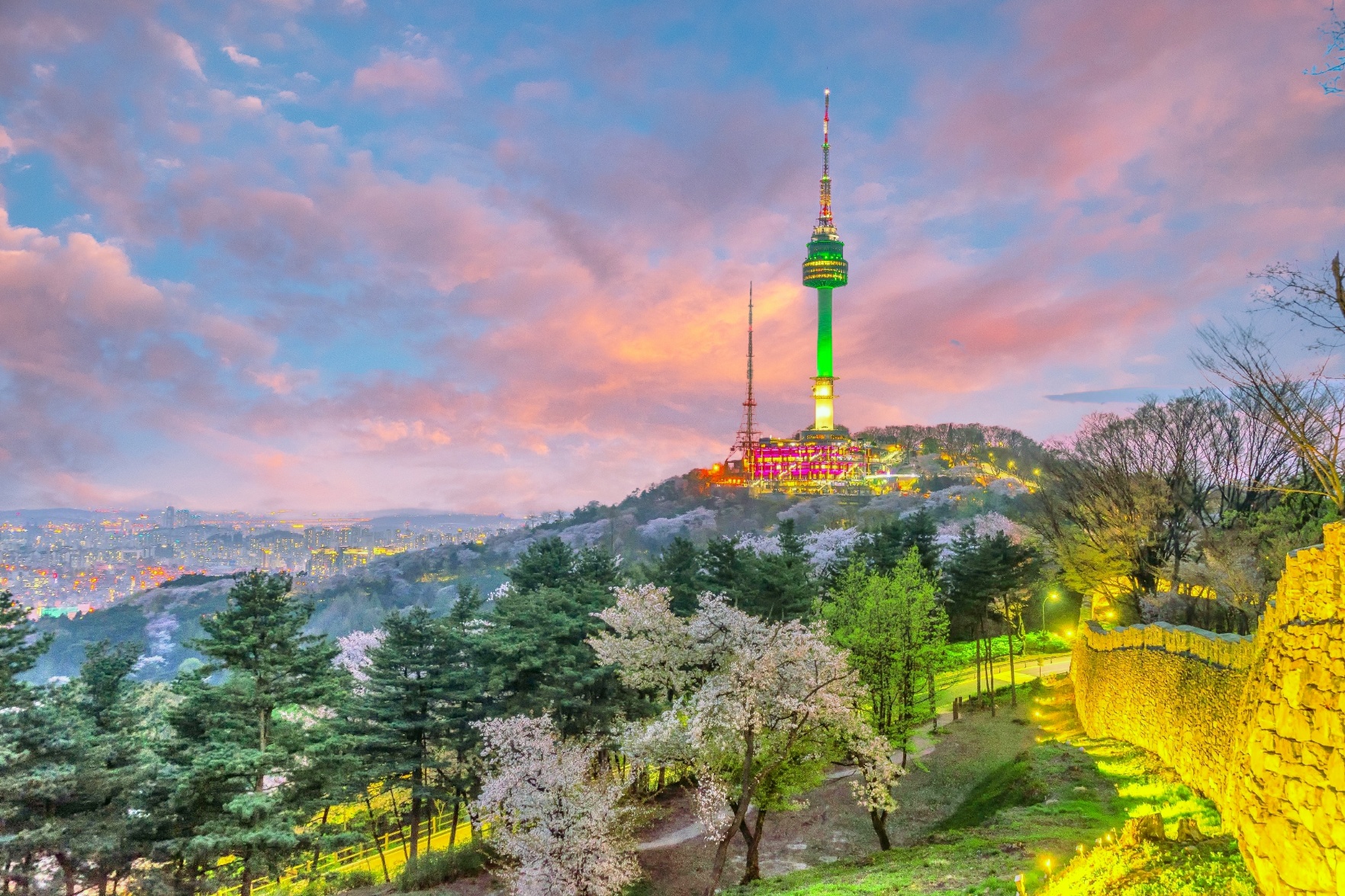 A top N Seoul Tower Hill, there are many attractions including scenic trails, fragments of Seoul's 14th-century city walls, an underground sea aquarium, a cable car (near Hoehyeon-dong), and a small traditional village. I have a house Which elaborates on this below. During the reign of King Taejo, the first king of Joseon in the early 15th century, Namsan Mountain was considered a sacred site for shamanism, and its role in guarding Seoul extended to the five-chimney smoke signal Mongwangdae. A view of the city from this hill. Near the base of the tower on Beacon Hill is another inspiring view from Nanshan Octagon Pavilion is a delicate octagonal pavilion.
2. Bukhansan National Park
Located in the Seoul metropolitan area, one of South Korea's 22 national parks are perfect for a hiking trip. Covering more than 30 square miles, Bukhansan National Park features granite peaks (three over 800 meters high), the 300-year-old Bukhansanseong Fortress, over 100 temples, canyons, and dense forests. Only 25 minutes by subway from Seoul Station. Alighting at Gilem Station, at the southernmost tip of the park, you'll find yourself on the easy Defense Gate Trail, a 2.4-kilometer (1.5-mile) trail past oak trees, waterfalls, crystal clear streams, and rivers. canyon. The highest peak, Baekundae (836.5m), can be climbed on the Bukhansanseong Fortress course, a tough trek to the top of bare granite, but the panorama is spectacular on a clear day. Built on the ridgeline of Baekundae, Bukhansanseong Fortress has 120 rooms and is surrounded by 8 kilometers of ramparts that are 7 meters high, and was a refuge for the kings of Joseon in times of need. The fortress is free to visit and is spectacular in autumn when the leaves change color.
3. Hangang Park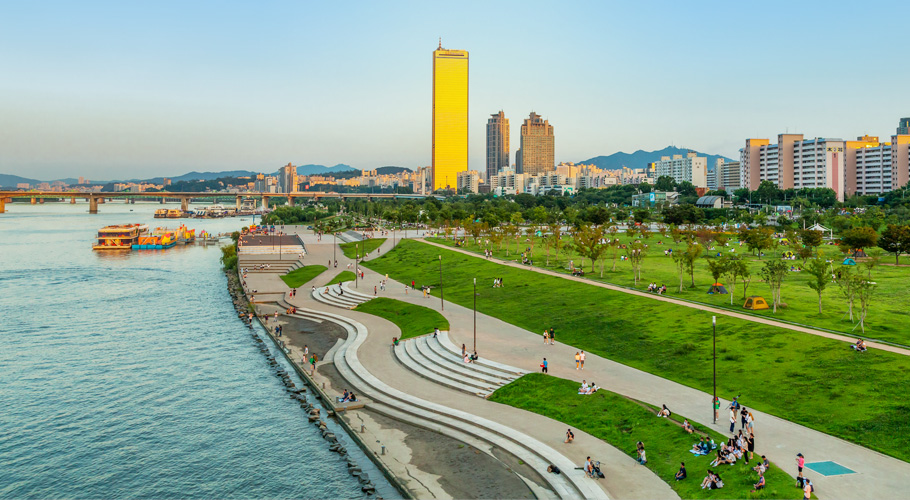 The streets of Seoul can get busy, but when the city gets too busy, you can escape to the banks of the Han River. It is flanked by a continuous series of parks (12 total) with riverside walks, sports facilities, and boat docks. , and an outdoor pool. The square was developed for the Olympics and is best viewed from the park on the south bank. Of course, you can rent a bike, but Ttukseom Hangang Park, Yeouido Hangang Park and Jam won Hangang Park offer boating, You can enjoy various water activities such as kayaking, as well as water skiing, and windsurfing. Hangang Park is scheduled to be regenerated in a project that will run from 2019 to 2030, transforming the park into a cultural and leisure hotspot in harmony with the riverside area.
4. Seoul Grand Park
Heading south from Seoul on subway line 4, the highland environment around Mt. Cheonggye offers a huge park complex with a variety of attractions. Seoul Grand Park is home to South Korea's largest zoo and botanical garden, as well as the Seoul Land amusement park, which we'll cover later in this list. The Seoul Grand Park Zoo moved to this location in 1984 and is the 10th the largest zoo in the world, home to about 3,000 animals of 350 species from around the world, including black bears, Siberian tigers, rhinos, and lions. I'm here. There is a botanical garden at the foot of Mt. Cheonggye with greenhouses planted with desert and tropical plants, carnivorous plants, and orchids. For children, the Children's Grand Park has its zoo, botanical garden, amusement park, and rides, all set in soothing greenery.
5. Seoul Forest
Passed by Subway Line 2, the 300-hectare Seoul Forest opened in 2005 on land that was once used as a hunting forest for the kings of the Joseon Dynasty. Spanning five different parks and containing more than 400,000 trees, Seoul Forest offers clean open spaces in the dense city. At its heart is the Seoul Forest Plaza Culture and Arts Park, which includes flowerbeds, playgrounds, a visitor center, a skate park, an outdoor stage, and restaurants. On the north bank of the Han River, there is a riverside park with 40 species of roses, a wetland botanical garden, and an eco-forest with beautiful natural areas, home to various species of deer, elk, mandarin ducks and spot-billed ducks, and an observatory. is installed. Get a better view of this wildlife. Finally, on the site of the former water treatment park is an adventure learning park with an ecological playground, a botanical garden, a wetland garden, and a birdwatching station.
6. Huwon Garden
If you have time, book the rear garden tour in advance when visiting Changdeokgung Palace. Covering 78 hectares, this guided tour is specially designed for royals and court ladies. This lush space features manicured lawns, gazebos, lotus ponds, and more than 26,000 of his trees of 100 species, some of which are over three centuries old. Hwon Garden is known as Buwon (secret garden) because even the government officials were forbidden to enter it. The real treat is his 17th-century U-shaped waterway, the Mikaryu River (Gyokuryu River), with small waterfalls and rocks with poems written on them.
7. Seoul Color Park (Yeouido Hangang Park)
Not to be confused with Yeouido Park next door, Seoul Color Park is located on the south bank of the Han River under Mapo Bridge in Yeouido. The area is Seoul's financial and political center, with qualified office workers joining Seoul families and tourists to enjoy the city on these grassy banks. Here you'll find much of his public art, including striking wave-shaped sculptures and benches painted in his 10 different colors, each with a unique meaning to the city of Seoul. For example, green represents Nanshan, dark gray represents traditional Yiwa tiles and red represent the Dancheong pattern found in traditional architecture. Seoul Color Park has many water features, and new installations such as Water Light Square and Waterfall of Light appear every year. It hosts the Yeouido Cherry Blossom Festival in the spring, and in the fall, with its stunning views of the Han River, it's the perfect place to watch the World Fireworks Festival.
8. Olympic Park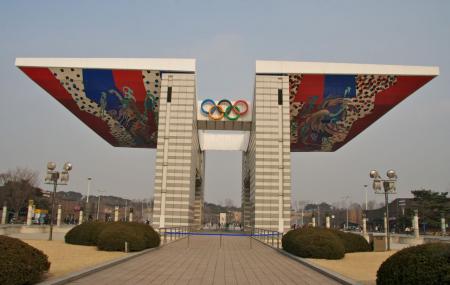 The sprawling 1988 Olympic venues in Songpa-gu, southeast of the city, contained many facilities, from cycling fields to tennis courts, a gymnasium, swimming pools, and a fencing stadium (now used for handball). The facility remains intact. ). These venues are located in locations with a much older history, dating back to the Baekje kingdom (between 1,500 and 2,000 years). The earthen walls of Mongchon Fortress were also the site of the modern pentathlon competition, and relics unearthed during pre-Olympic excavations were stored in the Baekje Museum. The 1.45 million sq m site is full of things to do. You can rent a bike or pedal car to get around and visit individual parks such as The Leisure Sports Park offers a variety of facilities, while the Culture and Arts Park hosts live performances and serve as the backdrop for the Seoul Olympic Museum, famous for its music fountains and sculptures.
9. Gyeongui Line Forest Park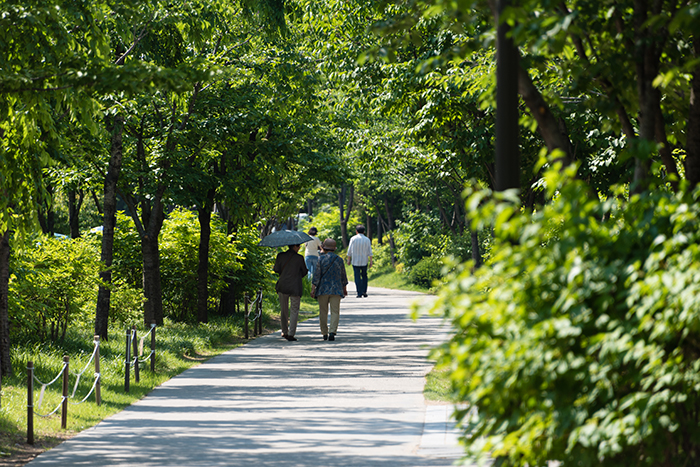 Hundreds of years old, the Gyeongui Railway was recently laid underground, gradually transforming its track bed into a rectilinear park with lawns, streams, ponds, and ginkgo tree-lined paths. Beginning in trendy Hongdae, this section begins opposite Exit 3 of He at Hongik Univ. Station and ends in a park that stretches over six kilometers from Yeonnam-dong to Munbal-dong in Yongsan. belongs to At the southeastern end, there are many restaurants and cafes nearby, and on summer nights the lawn fills with groups of picnickers and street performers with guitars that add color to the park.