25 Best Places to Visit in Eastern Europe – Minisk, Warsaw, Mostar and more
Eastern Europe might not be everyone's number one travel destination. Communist-era buildings, the conflicts in the 1990s and border disputes in recent years have meant much of the region has been overlooked by potential tourists.
But with its patchwork of pretty, pastel-colored old towns, incredible ancient history, exciting nightlife, and nature from sprawling lakes to swooping mountains, Eastern Europe is a surprising delight.
Here's a look at the best places to visit in Eastern Europe:
1. Vilnius
Vilnius is the Lithuanian capital which comes complete with a particularly beautiful old town. This heart of the city boasts Baroque architecture along its cobblestone streets.
But you can see more than just Baroque: there's the Gothic Saint Anne's Church, the 16th-century Gate of Dawn, and the Neo-Classical Vilnius Church.
Vilnius also contains an array of bars and cafes hidden down charming alleyways and lining atmospheric courtyards. With a large population of students, after night falls, Vilnius becomes a vibrant destination with flowing beer and live music.
2. Minsk
Minsk is the Belarusian capital. Completely destroyed during World War II,the Belarusian capital sadly no longer has much in the way of historical monuments or buildings.
With that in mind, much of Minsk is actually made up of Stalinist architecture, such as Independence Square, a sprawling former KGB headquarters, and more recent, very impressive churches.
Nowadays, Minsk is a modern city with cool cafes to chill out in with a coffee, restaurants with international cuisine, and interesting art galleries.
3. High Tatras
This rugged collection of mountains on the border of northern Slovakian is the tallest range in the Carpathian Mountains.
Mount Krivan is the highest peak and is a symbol of the Slovak pride, luring many of its countrymen to climb to the summit.
Over a hundred emerald lakes, gushing waterfalls, and Alpine meadows characterize this beautiful region, making it a great place to hike around.
In the winter skiers flock to the snow-covered slopes of the High Tatras.
4. Sofia
The Bulgarian capital of Sofia sits in the west of the country. Being something of a crossroads for Europe, it has attracted invaders and settlers a like for the past 2,000 years.
Its architecture and landmarks reflect the history of the region, including Ottoman mosques, Greek temples, Roman ruins, and Soviet monuments.
Despite its age, Sofia is a surprisingly youthful city with a laid-back atmosphere, where its citizens enjoy relaxing in green parks and strolling along the boulevard.
There are plenty of museums for you to delve into, but on the other hand, nightlife abounds, with a plethora of restaurants and nightclubs.
5. Butrint National Park
Butrint National Park sits in the south of the little-visited Balkan mystery of Albania, just across the sea from Corfu.
It's got just about everything you could want in a national park – lakes, marshes, grassy plains, wetlands, and even archaeological sites.
These include the site of Butrint itself, full of ancient architecture, including a very well preserved Roman-era theater and a Greek acropolis.
Elsewhere, this park boasts remote, rocky islands; one even features a 15th-century Venetian fortress.
6. Cesky Krumlov
In the South Bohemia region in the Czech Republic lies Cesky Krumlov.
This historic city is a supremely picturesque place to visit; think orange-tiled rooftops and the pretty riverside of the Vltava River,all flanked by green, rolling hills.
Made up of Renaissance and Baroque architecture,the town is overlooked by an impressive 13th-century castle.
It's a town that should not be missed because of its sheer charm and beauty. Come in summer and stay till the sun goes down to watch the energetic city come alive with bars and restaurants.
7. Golden Ring
This is a vast area northeast of Moscow, Russia, that encompasses a handful of historic Russian cities.
The medieval towns form a 'Golden Ring,'and due to their significance in the early history of Russia and the Rus tribe who founded it, have been labeled open-air museums.
Picturesque countrysides filled with cherry orchards, quaint cottages, onion-shaped domes and iconic churches that contain the country's oldest art make this region a special place to visit.
8. Warsaw
The Polish capital of Warsaw has had a long, complex history, often marked by war and conflict. It was very much damaged during World War II.
However, it has been lovingly rebuilt to its former medieval glory, with brightly colored townhouses making for a pretty – if slightly artificial – place to wander around.
There's a mixed bag of architecture across the city, including contemporary cafes and bars to discover.
There are plenty of outdoor spaces to enjoy and, with a lot of restaurants, it's an excellent destination for foodies.
9. Lake Balaton
Set in western Hungary, the holiday destination of Lake Balaton is awash with beautiful beaches along its shores, as well as resort towns.
Flanked by volcanic hills, it's the largest lake in Eastern Europe, and is thought of as the 'Hungarian Inner Sea.'
On the northern shores, you'll find a medieval fortress, and the oldest medieval town in the area.
If you like wine, you'll be happy to know that Lake Balaton is famous for its vineyards, which dot the surrounding hills. Windsurfing and sailing are popular during the summer months.
10. Mostar
Mostar, in Bosnia and Herzegovina, is famous for its Old Bridge over the Neretva River; in fact, the name Mostar derives from mostari, meaning 'bridge keeper.'
The bridge was built in 1556 under the orders of the occupying Ottomans, but was destroyed 427 years later in 1993 by Croat forces during the Balkan Wars.
Though it's easily reachable on a day trip from neighboring Croatia, to get the most out of your visit to Mostar, the best thing to do is stay overnight.
The crowds of day trippers trickle away, and the restaurants high above the river along cobbled streets light up.
11. Riga
Situated on the Baltic Sea, Latvia's capital is a mix of traditional and contemporary lifestyles. It's an energetic place, where culture combines with the cobblestone streets for an exciting city atmosphere.
You can expect intricate Art Nouveau architecture intermingling with Gothic spires in the city's beautiful old town, as well as a buzzing central market where you can dive into the city's gastronomic delights.
Sip a cool cocktail or a local beer in one of the many pubs when night falls and the fun begins.
12. Lake Ohrid
Straddling the borders of Macedonia and Albania, Lake Ohrid wins not one but two accolades of the natural world: it's one of the deepest, and also one of the oldest lakes in Europe.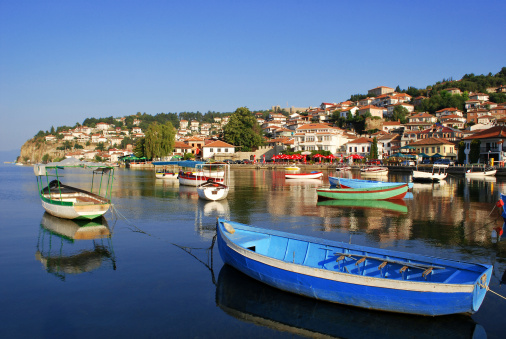 Most of the lake falls within Macedonia, making this the best place to base yourself to see the spectacle.
The old town of Ohrid itself, for example,is home to old architecture and a maze of narrow, cobblestone lanes to get lost in.
Further south around the lake, Sveti Naum Monastery dates back to 905 AD and is a beautiful building to behold, with views of the surrounding mountains and lake equally stunning.
13. Plitvice Lakes National Park
Huddled in central Croatia, Plitvice Lakes National Park is famous for its 16 terraced lakes, all conjoined by waterfalls that spill into a limestone canyon.
This lovely area is a playground for people with a sense of adventure, who enjoy hiking among-st fantastic scenery.
You can expect boardwalks and hiking trails that wind through limestone rock formations and cliffs, and around the variegated waters of the lakes.
That color change is down to the different mineral content of each lake. It's no wonder that this sublime area was chosen to be Croatia's first national park.
14. Belgrade
The capital of Serbia, Belgrade has a long history which involves not only Romans and Slavic tribes, but also Ottomans and Habsburg royals.
In more recent times, it was the capital of Yugoslavia. A proud, bold city, Belgrade has an eclectic energy all of its own, with Soviet blocks next to golden age Art Nouveau buildings.
It's also a lively place to be and one of the most hip capitals of Eastern Europe.
Spend time sipping coffee in quirky cafes,stroll along the pedestrianized boulevard and hit up one of the packed bars in the riverside quarter.
15. Kiev
The Ukrainian capital is an intriguing place– it's vibrant, it's historic and it's atmospheric.
Founded in the 5th century AD, Kiev is one of Eastern Europe's oldest cities, and was the center of the federation of Kievan Rus'.
There are plenty of places to soak up the history, like at the Pechersk Lavra complex – an important Orthodox Christian church– as well as the Saint Sophia Cathedral, with its breathtaking interiors and golden domes.
Elsewhere, the Motherland Monument is a dizzying Soviet marvel in concrete.
16. Lake Bled
Slovenia's spectacular Lake Bled sits in the Julian Alps in the northwest of the country.
This dazzling, mirror-like body of water is backed by tree-covered hills and snow-peaked mountains, for one of the most awe-inspiring natural wonders in Eastern Europe.
There's Bled Castle sitting high on a cliff above the lake, and Bled Island in the center of the lake, reached by traditional wooden boats called pletna.
There are a range of hiking paths around the lake, meandering in and out of woodlands and villages. The town of Bled is a popular place to base yourself to explore the lake.
17. Budapest
Straddling the Danube that runs through it, Hungary's vibrant capital is an increasingly popular destination and really has everything you could want from a city.
Budapest has some wonderful architecture on show that ranges from baroque and neoclassical to art nouveau, with the elegant Fisherman's Bastion and enormous Parliament building being just two of its many highlights.
Around the city, enjoy the much-loved thermal baths, spend an evening at the opera, pedal around Margaret Island, and hop around the emblematic ruin bars.
18. Bay of Kotor
A sweeping bay in the eastern Adriatic Sea, the Bay of Kotor is situated in southwestern Montenegro.
It's a beautiful spot ringed by jagged green hills and medieval towns, with red-roofed houses spilling down to the coastline.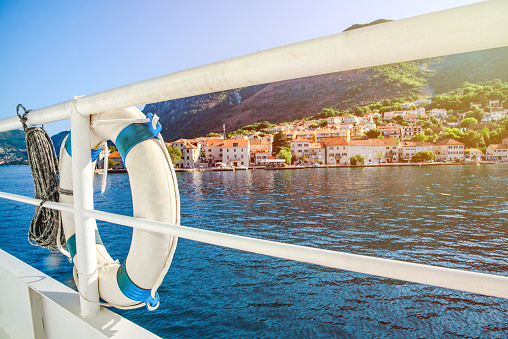 Best explored by car along its winding roads,the region is packed full with incredible sights – from old citadels to islands topped with monasteries.
There's plenty of chances for seafood and delicious dinners by the sea to complement the scenery.
Kotor old town is a Venetian wonder, surrounded by walls with a mountain backdrop that's well worth using as a base.
19. Tallinn.
The capital of Estonia, Tallinn entices. With its 14-century old town, built as a defense system, when you walk through the impressive medieval Viru Gates, you can feel the history right away.
Parts of Tallinn's city wall are still walk able, complete with windows where you can glimpse the charming city below.
There are also historic churches such as Saint Olaf's Church, dating back to the 1200s.
Tallinn has a hipster side too, which can be found at a reclaimed factory area where former warehouses now contain trendy restaurants, bars, and shops.
20. Transylvania
The central Romanian region of Transylvania is synonymous with stories of Dracula and bloodthirsty vampires.
Whilst not entirely true, the area is mythical in terms of its natural beauty; bordered by the Carpathian Mountains, visiting Transylvania is like being transported into a slow-paced, medieval world.
The countryside abounds quaint villages and local life between pastures and swathes of hills blanketed by trees.
There are many historic fortresses built by medieval German settlers, including the famous Bran Castle: these daunting spires make up what is popularly known as Dracula's Castle.
21. St. Petersburg
The old capital of Imperial Russia, St. Petersburg is the cultural center of the country. It was founded in 1703 by Peter the Great and is home to lavish imperial buildings.
Other sights include the Mariinsky Theatre for a world class ballet and opera, the lavish 1880s Church of Spilled Blood, as well as the State Russian Museum.
The Hermitage Museum, spread over six buildings including the beautiful Winter Palace, has an incredible collection of antiques to marvel at St. Petersburg is also a canal city with a Baltic coastline to boot.
22. Krakow
This southern Polish city, close to the Czech Republic, is a former royal capital. There is a beguiling mix of medieval buildings and modern-day, youthful nightlife to soak up here.
Krakow is known not only for its old town– complete with the 13th-century market square, which is where you'll find the iconic Cloth Hall, the grandiose centerpiece of the square.
The former Jewish quarter with all its synagogues is somber to walk around, and many tourists visit Krakow to take a trip to Auschwitz – ahaunting yet important experience.
23. Dubrovnik
Set in the south of Croatia on the Adriatic Sea, Dubrovnik is famous for its old town.
This walled, medieval part of town was shelled in 1991 during the Balkan Wars, but has been restored to its former glory.
Take a walk along the old city walls and be beguiled by the Baroque buildings or enjoy a lazy afternoon at street side restaurants soaking up the splendor of the city.
The Old Town has also gained popularity for being the filming location of Game of Thrones and Star Wars, which just goes to show what an iconic place the old, walled city is.
24. Moscow
The Russian capital is a must-visit destination. It's home of the Kremlin – the historic castle-turned-presidential complex – Red Square – a symbol of Russia's power, and Lenin's Mausoleum, where you can see the former Communist leader lying in situ.
Of course, the captivating and colorful onion domes of Saint Basil's Cathedral are not to be missed, either.
Museums, such as Pushkin State Museum and the State Tretyakov Gallery, allow you to learn more about Moscow, too. Iconic ballet can be seen at the equally iconic Bolshoi Theatre.
25. Prague
Prague was given the nickname 'City of 100 Spires,' and it's not wholly incorrect: the old town of Prague is bristling with Gothic, Renaissance, and Baroque architecture, boasting soaring spires that make the skyline like something from another time.
Now the capital of the Czech Republic, Prague was once capital of the Kingdom of Bohemia. Prague has a lot of sights pointing to its history, like the 9th century AD Prague Castle.
There's the 14th-century Charles Bridge boasting its stunningly ornate Gothic towers, and the old town square where you'll find Prague Astronomical Clock – the oldest still functioning in the world.