10 Best Places to Visit in Austria
Austria is a country that is as well known for its scenic beauty as it is for its cultural activities.
Situated in the Alps, it is a very popular place with skiers and hikers, but it is also a country that gave the world an important musical heritage, ranging from the classical composer Mozart to the Strauss waltzes and the Von Trapp family whose story was told in The Sound of Music.
Here's a look at the best places to visitin Austria.
Bad Gastein
Located in Hohe Tauern National Park, the spa town of BadGastein is well known for its Belle Époque buildings surrounded by mountains and fog-free air.
At 3,000 feet above sea level, visitors flock to BadGastein to breathe the pure mountain air, soak in its hot springs and partake of spa treatments.
BadGastein also is popular with outdoors men, who like to ski in the winter and hike or bike mountain trails in the summer.
Worthersee
Carinthia's biggest lake, Worthersee is one of Austria's most famous summer destination.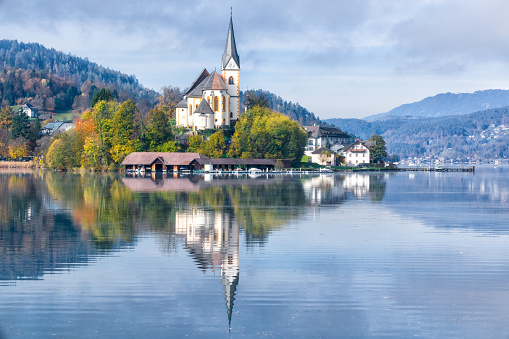 It appeals not only to those who want to canoe across the lake, but also spelunkers who will want to check out several caves, including Griffen Stalactite Cave, which is considered Austria's most colorful cave.
Those who enjoy visiting cathedrals won't want to miss the Cathedral of Gurk, which dates back to the 12th century, while vintage car enthusiasts may enjoy a visit to Gmund, birthplace of the Porsche.
Graz
Students will find a Mecca in Austria's second largest city, Graz, which is known as a city of students, with its six universities enrolling more than 44,000 students.
It also has one of the best preserved old towns in central Europe, which reflects the culture of the Balkan States and Italy.
The city is filled with numerous museums, ranging from art to armory. Living up to its reputation as a City of Culinary Delights, Graz offers a wide variety of international cuisines.
Cooks may want to bring home a bottle of pumpkin seed oil, a local product, after touring a summer farmer's market.
Grossglockner Alpine Road
Surely one of the most beautiful roads in the world, the Grossglockner High Alpine Road is an absolute treat to drive along.
Named after the highest mountain in the country, the route takes you through the 2,500 meters high Hochtor Pass.
Weaving its way through scenic valleys and along steep mountainsides, the Grossglockner High Alpine Road offers plenty of breathtaking views.
Just make sure the road is open, which is normally from the beginning of May to the end of October.
Wachau
With the Danube River running through it, the Wachau Valley is a popular tourist destination in Austria.
The town of Dunstein is well known as the place where Duke Leopold V held the British king, Richard the Lion-Hearted, prisoner for several years in the late 12th century while the town of Melk is renowned for its beautiful Benedictine abbey.
Wachau is also known for its wines, as well as fruits such as apricots. The valley has more than 500 historic monuments, so tourists are going to have to make some tough choices.
Zell am See
Zell am See, located in the state of Salzburg, is another well known tourist destination, famous for its mountains and lakes.
Once governed by French troops back in the early 19th century, Zell am See has hosted several international skiing competitions.
Off the ski slopes, one of its most famous attractions is the Romanesque St. Hippolyte's Church, with an elevated walkway that dates back to the early 16th century.
Zell am See is also a good starting point for the Grossglockner Alpine Road a panoramic road famous for its high alpine scenery.
Innsbruck
Innsbruck, with a name that translates as"bridge over the inn," is an all-season tourist destination.
It is internationally known for its winter sports, having hosted the Winter Olympics in 1964 and 1976. But this Tyrolean city offers more than just great skiing.
It offers a good mix of cathedrals, such as Hofkirche, which houses the tomb of Emperor Maximilian I; the Schloss Ambras, which has a collection of paintings and armor; and the Bell Museum, a nod to 400 years of bell-making.
Salzkammergut
Salzkammergut is a beautiful resort area that starts with Salzburg and heads east into a land of lakes. Sparkling clean lakes, green hills, wonderful mountains, romantic towns like St.Wolfgang make up this region.
Travelers who have seen the movie "The Sound Of Music" will know what this lake region looks like, because that movie was filmed in and around the city of Salzburg and the neighboring Salzkammergut region.
The resort area is popular with sunbathers as well as visitors who seek relaxing spa treatments. Visitors can join in the relaxed moods by donning the ever-popular resort wear, lederhosen for men and dirndl outfits for women.
Salzburg
Situated in central Austria, near the Germanborder, Salzburg is probably best known as the birthplace of Wolfgang Amadeus Mozart.
Travelers come to Austria's fourth-largest city to view the sights that inspired such unforgettable music.
With its hill-topped medieval fortress, picturesque Altstadt old town and breath-taking Alpine Scenery, Salzburg is one of the most popular destinations in Austria.
For those seeking to relive scenes from the movie "The Sound of Music", must-see attractions include the 17th-century Baroque Mirabell Palace and Gardens and the von Trapp family home, which is now a hotel. Mozart aficionados can visit his birth placeas well as a reconstruction of his home
Vienna
Elegant waltzes and Johann Strauss immediately come to mind when one thinks of Vienna, the capital of Austria and its largest city; the city still holds more than 200 balls each year.
But the city also is known for other classical composers such as Mozart, Brahms, Beethoven and Schubert.
Travelers can take a break from music by visiting the Hofburg, which houses the Hapsburg rulers' imperial jewelry, and the Kunsthistorisches, a museum that has an outstanding collection of paintings by old masters.
Vienna is also famous for its cafes where travelers can rest their weary feet while deciding which museum or park to visit next.